We undertake on turn-key basis, projects for Electro-Mechanical equipment mainly related to PUMPING STATIONS and ELECTRIC SUBSTATIONS for WATER, SEWAGE and LIFT IRRIGATION.

We have an experienced & competent team of design & project site engineers and are rated as one of the best Contractors in North India.

We have tie ups with all leading pump manufacturers like Flowmore, KBL, M&P, WPIL, Jyoti, SAM etc. and use these makes depending upon suitability/requirement of each project.

Some of the projects constructed by Ace

Indira Gandhi Nahar Project, Rajasthan – We have seen the desert go green with the commissioning of SEVEN pump stations at Kolayat, Gajner & Phalodi. Another plant is under construction at Sahwa.

Delhi Jal Board – Sewage pump stations at Adarsh Nagar & Keshopur

NALCO – Ash water system for their captive power plant at ANGUL, Orrissa.

DDA – Sewage station at Vasant Vihar

U.P.Jal Nigam – Sewage & Water pump stations at Agra, Mathura, Ghaziabad & Saharanpur.

Several more in Punjab, Harayana and even one at KARGIL , J&K.
"Ace" is a trusted name in North India. We are authorized dealers for several reputed pump manufacturers. We supply & service various types of pumps as detailed below:

SAM TURBO INDUSTRY LTD., COIMBATORE.

Chemical Pumps- Horizontal & vertical sump pumps with both open & closed impellers. In materials like NiCI,SS-316, SS-317L, A-20, CD4Mcu etc.

API-610 pumps for refineries and other high temp and pressure applications.

Slurry Pumps- for abrasive services. Both horizontal & vertical. Materials- NiHard-IV & 27% chrome iron with hardness upto 600 BHN.

Water Pumps- Horizontal Split Casing and End Suction. Multi-stage too.

SAM pumps are approved by all leading consultants/inspection agencies like EIL, DCL,
Jacob H&G, UDHE, NTPC, PDIL, KPG etc.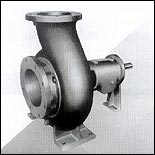 Satisfied users include, Hindalco, BILT, Century & Star paper, NTPC units, HZL units, Insilco, NFL units, Marble units including R.K.Marbles,Nalco, Birla Copper, Indo Gulf Fertilser, IFFCO units, SAIL, Jindal Steels, India Glycols, Hindustan Polymers, Mohan Goldwater , Abhishek Industries, Khanna Papers, Shreyans etc.

FLOWMORE / FAIRBANKS MORSE , GHAZIABAD

Vertical Turbine & Propeller pumps
Non- Clog , both horizontal & vertical pumps
Horizontal Split Case & Mixed Flow pumps.

PULLEN MACHINERIES, AHEMDABAD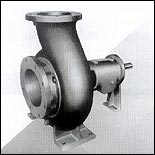 "AQUA" make submersible sewage pumps

JYOTI LTD, BARODA

HSC, VT, Non Clog & Submersible pumps